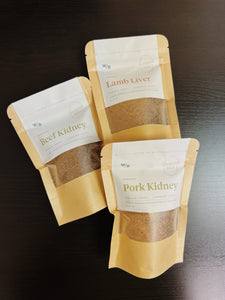 Contents:
3oz dried wt. = 

 

 

a

bout 12oz fresh wt.

1tsp (.1oz) dried wt = .4oz fresh wt — 18-20lbs dog
Dosage: Feed according to 5% of your dog's daily liver intake!
The liver, in general, is highly nutritious. It's a concentrated source for vitamin A and B, iron, copper, folic acid and antioxidants. We ground these up so you can easily garnish your pups bowls! This is a new item so let us know what your pup thinks!
Recommendations
Feed as is for a high reward treat
Add it to a meal as part of their 5% liver intake
Feed in moderation
Hot

Lamb is considered to be a "hot" protein. Dogs that run cold are always seeking warmth. Warming/hot proteins can help dogs that suffer from stiff joints and arthritis especially in the winter months.
According to Traditional Chinese Medicine, food is energy and the primary concept is to have balance. The food theory is divided into cooling proteins (Yin), warming proteins (Yang) and neutral proteins.
Storage
Store in a cool, dry area for 30 days (unopened) or freeze for up to 6 months.
Specs
Made from human-grade meat
Sourced and made in California
USDA certified
Grass-fed
Hormone and antibiotic-free
No preservatives
No additives
Non-GMO
Single-ingredient