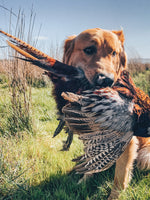 What is species-appropriate?
Given that dogs are descendants of wolves, a species or biologically appropriate diet comes from the concept of ancestral nutrition. Feeding fresh, raw, unprocessed foods mimic what wolves and wild dogs consume in nature.
Treats + Chews!
Our single-ingredient, unprocessed snacks are air-dried at low temperatures to retain its nutritional content. We pride ourselves in utilizing ethically sourced, human grade ingredients to support your dog's health and well being.